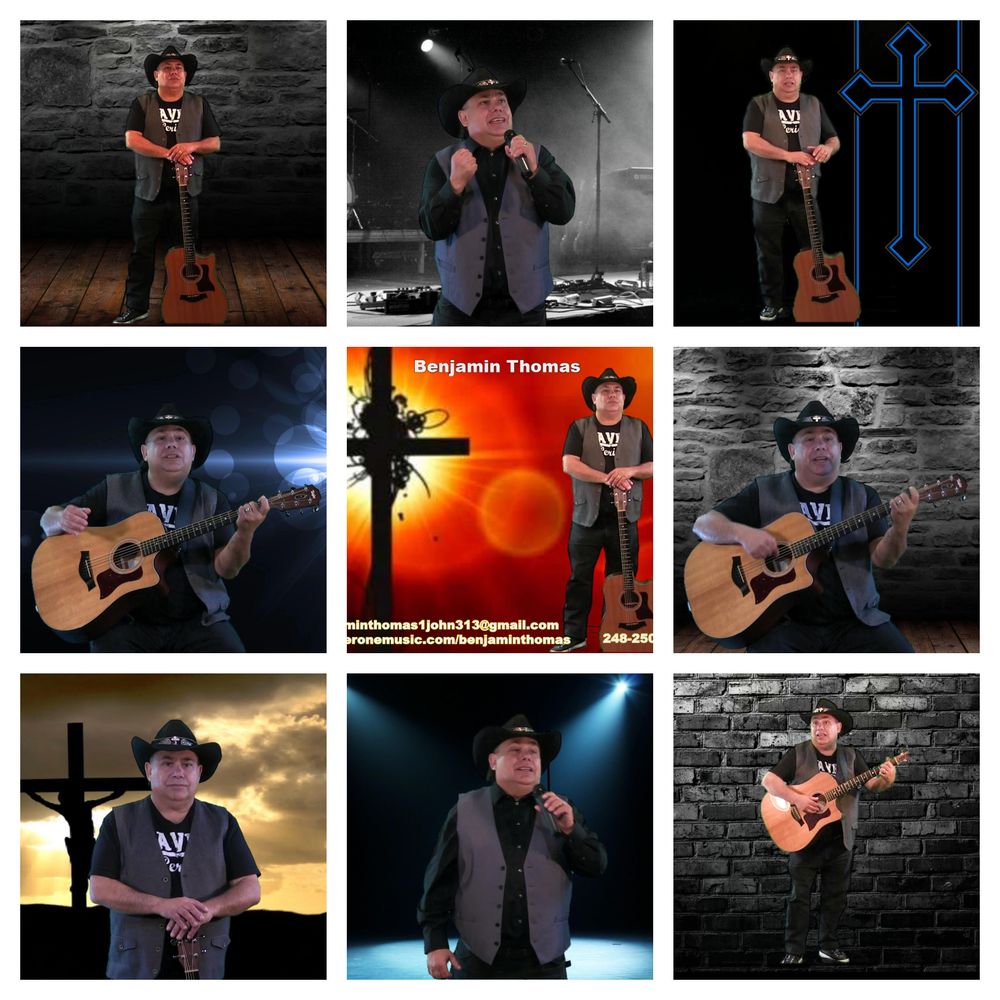 MY LIFE
EARLY DAYS
Benjamin was raised a middle child in a military family of six children.  His father, a Marine instilled in him good values and taught him about life. He also taught him a good work ethic that would stay with him all the days of his life.  All of his siblings were born with gifts.
At an early age, Benjamin developed a gift for writing prose and poetry.  He realized he had a message to get out, but learned that it would be difficult for him.  Most people aren't looking for a poet, and he wanted his life in verse to be heard. Then one day, he picked up a guitar.
There are two types of guitar players, the first picks up a guitar and starts to learn other people's licks, and the second picks up that same guitar and immediately starts to write songs.  Benjamin was a songwriter. And as that came to fruition,  through the encouragement of those who heard his voice he began to sing in public. This journey started when he was only 15 years old. He joined his first band, and with that the whirlwind began. He got on a nonstop train that took him down a road for the next 22 years.
Along that road he went through experiences that most people would consider grandiose. He found himself at times upon the stage in settings that to many would be considered remarkable. He was thrown into the spotlight at a young age, and ended up in places like the former Pine Knob in Clarkston ( Now DTE ) warming up for "Huey Lewis and the News". At Harpos in Detroit he became the house band and shared the stage with acts like  "Quarter Flash", and "Johnnie Winters".  He also played with other popular local bands. Among them were "The Look", "Rockets", and  the "Romantics." Benjamin also appeared on the stage with "Ted Nugent" and "Iggy Pop" at the Pontiac Silverdome.
Through the years he continued to write music recording in over 20 studios.  Always seeking a goal of stardom as he tried to reach the masses so he could get his message out.  During this period he became signed to numerous record deals still things didn't quite work out. His road was coming to an end.
DAYS OF DESPAIR AND HEARTACHE
Someone once wrote that you can't truly be an artist unless you suffer through pain. To some degree that is true, but most of the pain in life is caused by the absence of love.
Success does not always equate to love. The reality is that true success is not defined by what you do, but by who loves you.  After years of going down that road of sacrifice, that required total dedication at all cost, Benjamin was at the end of the road. And yes, by most people's definition of success he had finally arrived and found himself being courted by larger Record Companies, and in 1993 was approached by Geffin Records and asked to stop playing and sign an Artist/Songwriter deal.
Most people would have thought that was great.  Having finally achieved the goal he was working for Benjamin had finally arrived.  He then woke up and realized he was empty.  All the notoriety did not fill the void in his life. He started hearing voices and the voices told him, " Since you have it all and you're not happy, why don't you kill yourself ? "
So, Benjamin decided that like others before he did not want to become another rock and roll statistic. The voices convinced him to actually end it !
You see, through the years he developed an addiction problem, and even though he was now 5 yrs. clean he still had the haunting pull in his life to go back. This was due to the fact that he had never dealt with the deep rooted issues of pain in his life. The issues that caused him to use drugs to begin with. In February of 1993 it all came to a head,  preparations were made,  and the day was chosen.  His plan was to Gas himself in a pole barn in an abandoned field.
WHY IS HE TELLING YOU THIS ?  BECAUSE IT IS NOW PART OF WHO HE IS !
The day of, he went to school of all places. And overachiever, he had to turn in a term paper that he had worked so hard on.  It was a three-hour class, and during that time the snow fell and left a two-foot blanket on the parking lot of the college.  All students were asked to wait in the library until they plowed it out to avoid a mess.
TORMENTED HE ASKED HIMSELF THE QUESTION.  " SHOULD I DO IT NOW OR WAIT. "
THEN GOD SHOWED UP
A fellow student that Benjamin knew was also in the library. She came to him with tears down her face and he asked her what was wrong. She said, "The Holy Spirit spoke to me said you want to kill yourself and I am supposed to ask you if you ever heard about the love of Jesus Christ!"
No one else knew..... so Benjamin stopped what he was doing.
The rest of the story is long,  and most would not believe,  but he walked away from the deal,  the $250,000 check,  the fame,  and a few weeks later gave his life to God.
MY LIFE SINCE THEN
The road to redemption is not always easy. It is an uphill climb that at times you may find yourself slipping and losing your footing. Benjamin still had to go through the fire,  as God put him through a transformation.  Lots of years to come, and as Paul did,  he was kicking against the goads!
Yet through years of pain,  God brought him through.  Benjamin began to  experience what is was like to see the world through Gods eyes.  A cosmic shift came into play as the old man died and the new man arose.  The songs became more about others,  their pain,  and their hurts. The gift God birthed in him was now ready to come into the world.  After years of running he finally stopped and accepted the call.
There is so much more to the story of the change in his life. The music has changed, and the purpose is different. It is now for the purpose of helping others to get out of their pits of despair. To be used to launch a ministry.
"TO MUCH THAT IS GIVEN MUCH IS REQUIRED"
Check out the Ministry page "WINGS OF LOVE MINISTRIES INTERNATIONAL"
"SPREADING GOD'S WINGS OF LOVE"